Speeds of Time - Tate Britain and BBC Radio 4
by Bill Fontana
Media Presentation on Speeds of Time - 2008
Tate Britain 5 September to 3 October
Speeds of Time Interview by BBC Radio 3 in 2008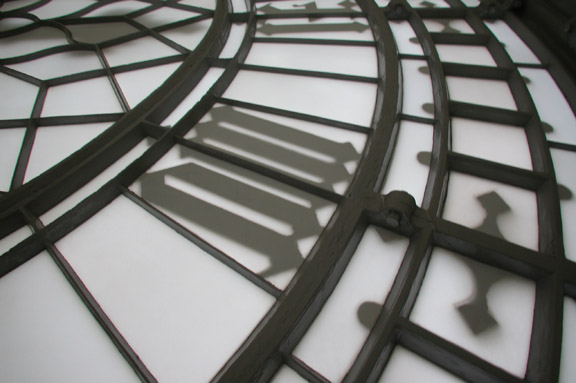 Stereo Mix Recorded at 12 Noon on September 3, 2008
Speeds of Time Interview by BBC Radio 3 in 2008
Live Interview from Parliament Square on BBC Radio 4 on 7 September
This new version of Speeds of Time will be a sculptural sound map of the bells of Big Ben. A network of microphones starting from the clocktower itself and spreading out to surrounding rooftops and terraces around Parliament Square and beyond will simultaneously trace the contours of the temporal deformation of the bells.. The speed of sound is 1116.4 feet per second. When you take into consideration the distances of all the microphone locations and divide those distances by the speed of sound the result is a sequence of natural acoustic delays creating a multi-dimensional sound image of Big Ben that is actually a live sound map of this part of London.
This will be a totally new version realized for the Millbank entrance at Tate Britain, and will also be a radio sound sculpture for the BBC that is streamed live on their website for the entire month of September, and also occasionally broadcast on BBC Radio 4.
Everyone knows the familiar sound of the Westminster Chimes, a symbol of time itself, and one of the most famous sounds in the world. This iconic concept of the sound is based upon the idea of a single acoustic perspective. The sonic reality of the bells are its sound field permeating the acoustic fabric of Central London. When this sculptural spreading of its sounding is measured and multiplied by the concept of simultaneity, the bells of Big Ben become transformed into a multiple sound image, cascading and echoing with itself. Besides mapping the sound field of these bells, it will map other sounds in a multiple-perspective manner within the sonic quadrant defined by the microphone locations. Urban sounds that are moving through this area of London such as aircraft and sirens will be processed by this sound sculpture in such a way that their changing Doppler Shifts make them unexpectedly musical. There will also be an ongoing duet between the much older Horse Guards Clock at Whitehall and Big Ben that are slightly offset from each other in time, with the former hearing the low pitched time delayed tones of Big Ben and background sounds footsteps on gravel and the changing of the guard.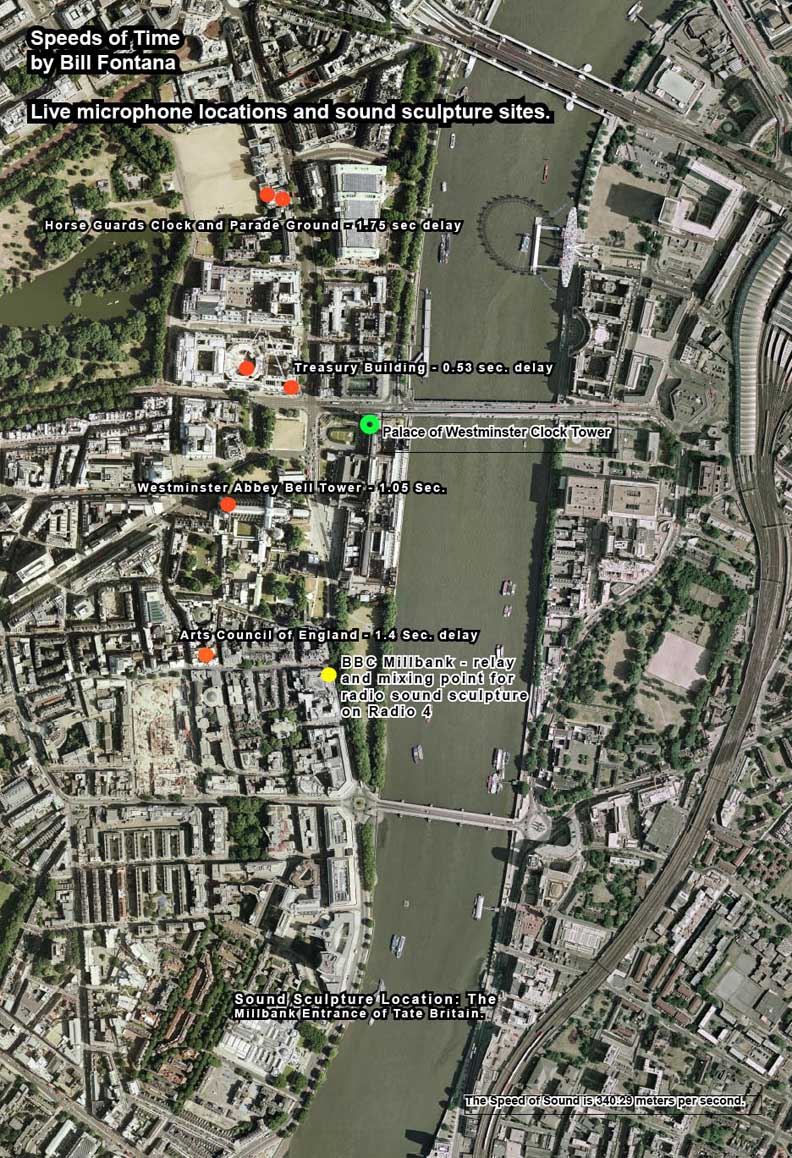 Media Presentation on Speeds of Time - 2008
Stereo Mix Recorded at 12 Noon on September 3, 2008
Live Interview from Parliament Square on BBC Radio 4 on 7 September
Speeds of Time Interview by BBC Radio 3 in 2008
Prix Ars Electronica Golden Nica 2009 for Speeds of TIme 2008